這是我們一年一度的特別活動,是給什麼都特別想體驗各種手作的你!每個工作坊都只需要1個小時,讓你空手來,滿載而歸~
而根據SOP,每堂課只有8個位哦!還有還有! 🌟首10位報名的童鞋們還可以獲得我們的一份神秘禮包**哦!🎁 勸你別考慮太久,位子沒了,可就真的要等明年了😂 馬上報名吧!
以下有12月11日的工作坊細節,可以一一查看。若還有不明白的,歡迎信息我們!我們會儘快給你答覆的~
This is our annual special event for you who would like to experience all the art and crafts! All workshops will need only 1 hour. You'll come in empty hands, and leaving with lots of happiness and fun!
Base on the SOP, each class can only have 8 pax! AND!!! First 10 sign-ups will get a special gift from us! 🎁 Hope you don't consider for too long, once sold, then you might need to wait for next year 😂 Register now!
Below are the workshop detail for 11th December. You may look through it. If you need any more info, just feel free to text us. We will try to get to you ASAP.

{Hand-Pinching Ceramic Mini Xmas Plant Pot | 手捏陶藝迷你聖誕花盆}
✅ Date 日期:11 December 2021 (SAT 六)
✅ Time 时间:10:00AM~11:00AM (1 hr/小时)
✅ Fees 课费:RM80/pax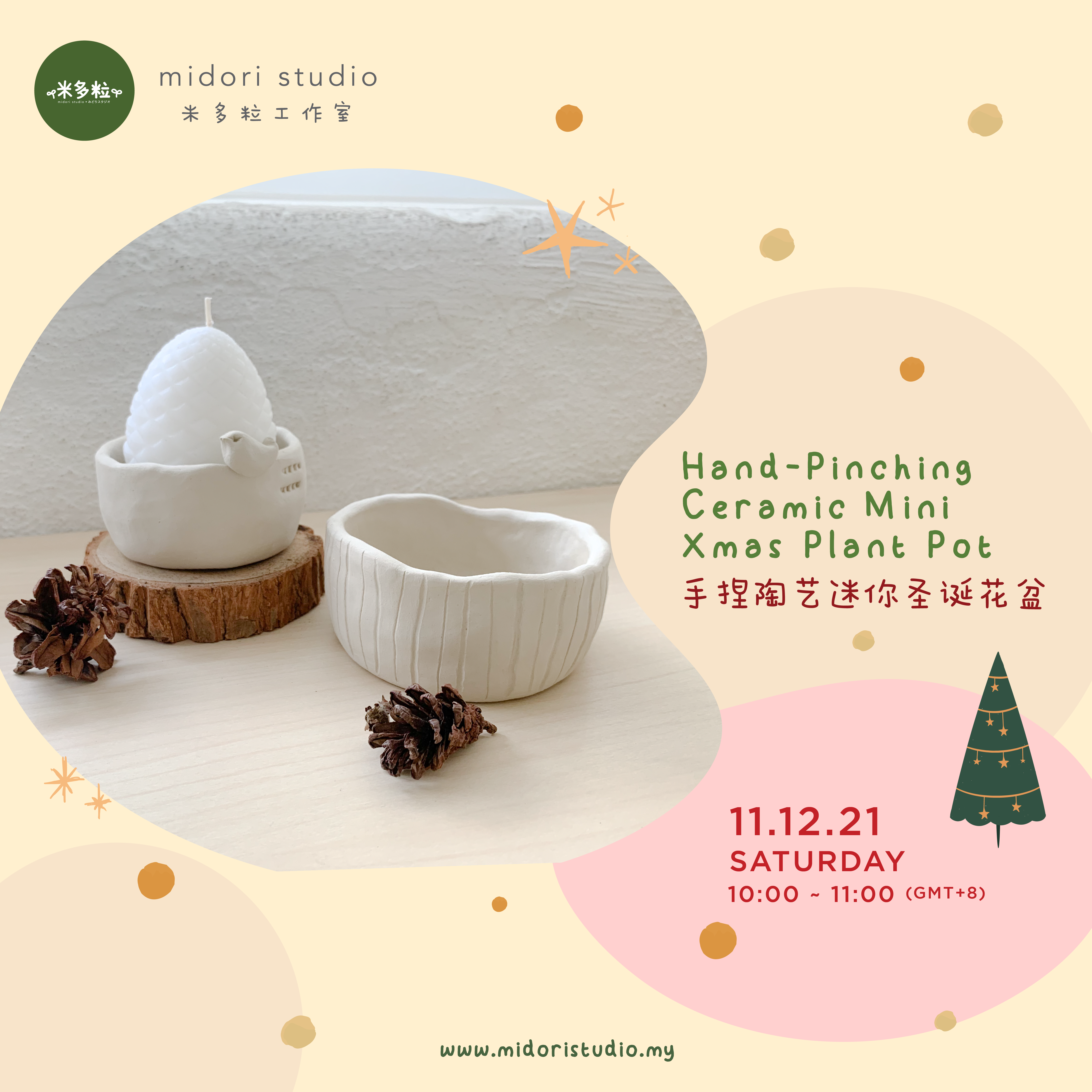 You will be learning and getting 你学习制作并带回家的:
🌟 will be teaching you 2 different skills of making a small plant pot (around 3in) 將教大家兩種手捏小陶盆 (大約3寸) 的方式
🌟 The material kits included 材料包包括: +-1kg natural clay 天然陶, Ceramic tools starter pack 陶藝基礎工具包
----
{Terrarium Workshop 1.0 | 微景觀體驗班 1.0}
✅ Date 日期:11 December 2021 (SAT 六)
✅ Time 时间:11:30AM~12:30PM (1 hr/小时)
✅ Fees 课费:RM30/pax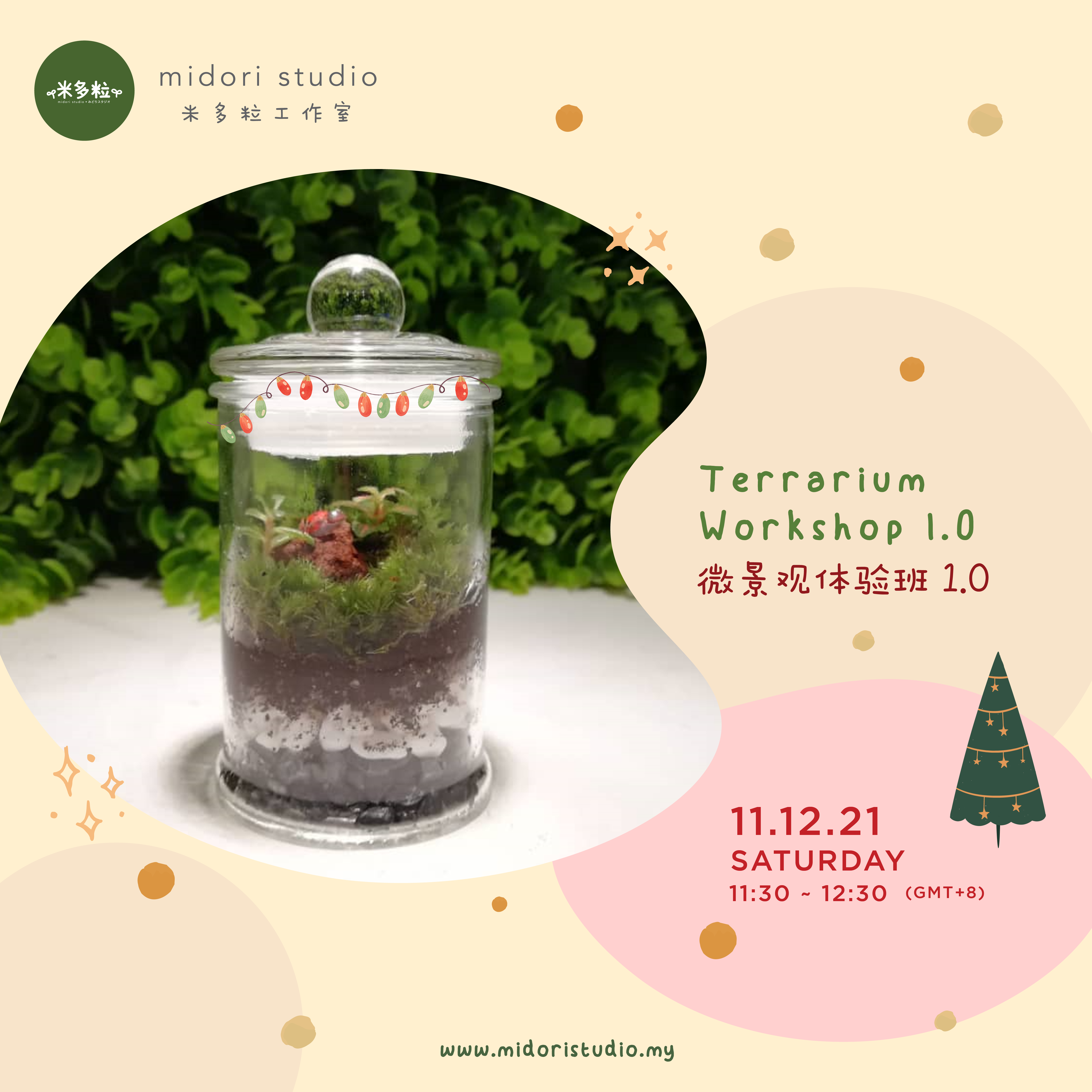 You will be learning and getting 你学习制作并带回家的:
Palm Garden 手掌花園
🌟 Glass size 玻璃罐尺寸: 11cm x 6cm
🌟 Inclusive all materials 包括的材料: Glass 玻璃罐子, Soil 土, Bun moss 苔蘚, Gravel 碎石, Stone 石子, Sphagnum moss 泥炭蘚, miniature 小裝飾 x1
----
{Terrarium Workshop 2.0 | 微景觀體驗班 2.0}
✅ Date 日期:11 December 2021 (SAT 六)
✅ Time 时间:1:00PM~2:00PM (1 hr/小时)
✅ Fees 课费:RM65/pax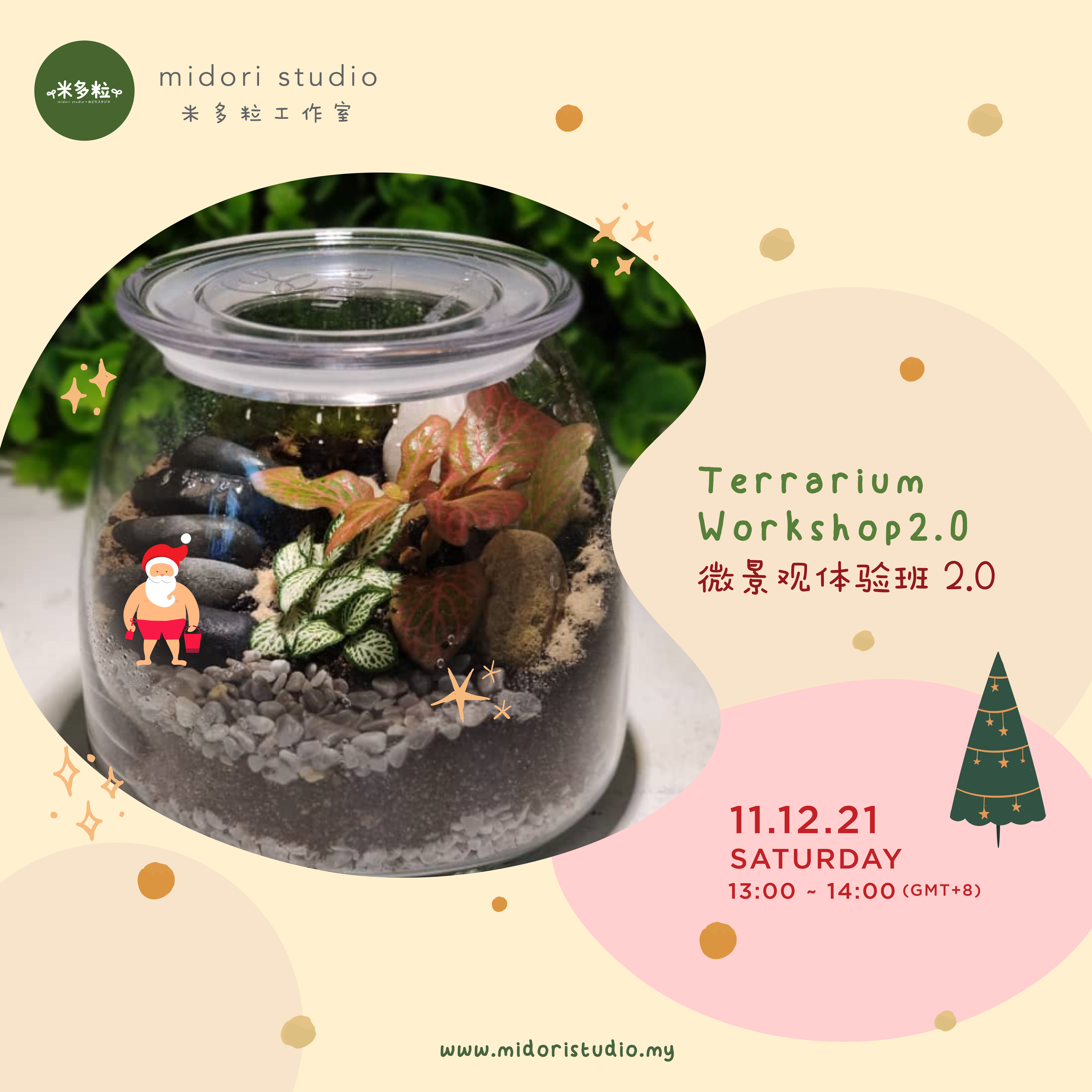 You will be learning and getting 你学习制作并带回家的:
Jar Garden 果醬罐花園
🌟 Glass size 玻璃罐尺寸: 11cm(L) x 10cm(H)
🌟 Inclusive all materials 包括的材料: Glass 玻璃罐子, Soil 土, Bun moss 苔蘚, Gravel 碎石, Stone 石子, Sphagnum moss 泥炭蘚, miniature 小裝飾 x1
----
{Basic Mandala Dot Art | 基礎曼陀羅點繪}
✅ Date 日期:11 December 2021 (SAT 六)
✅ Time 时间:2:30PM~3:30PM (1 hr/小时)
✅ Fees 课费:RM80/pax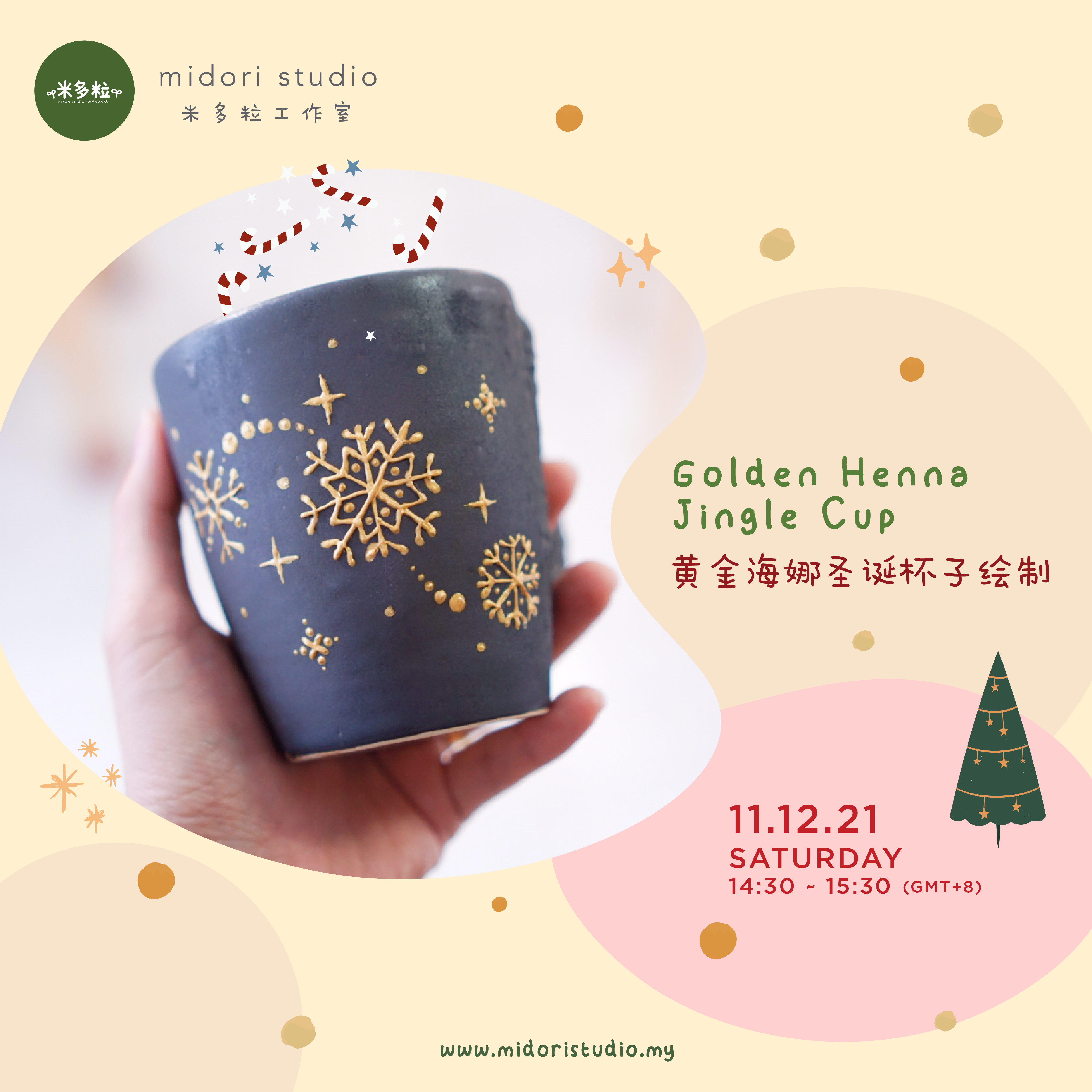 You will be learning and getting 你学习制作并带回家的:
🌟 Student can draw freely 學生將可以自由發揮
🌟 Material included 材料包括: Bronze Cup 古銅色, Gold Paint 金彩顏料
----
{Basic Mandala Dot Art | 基礎曼陀羅點繪}
✅ Date 日期:11 December 2021 (SAT 六)
✅ Time 时间:4:00PM~5:00PM (1 hr/小时)
✅ Fees 课费:RM40/pax
You will be learning and getting 你学习制作并带回家的:
🌟 The basic of dot art painting 點繪的基本技巧
🌟 8cm x 8cm painting 作品 x1
----
{Indigo Dye Drawstring Bag | 藍染束口包}
✅ Date 日期:11 December 2021 (SAT 六)
✅ Time 时间:5:30PM~6:30PM (1 hr/小时)
✅ Fees 课费:RM80/pax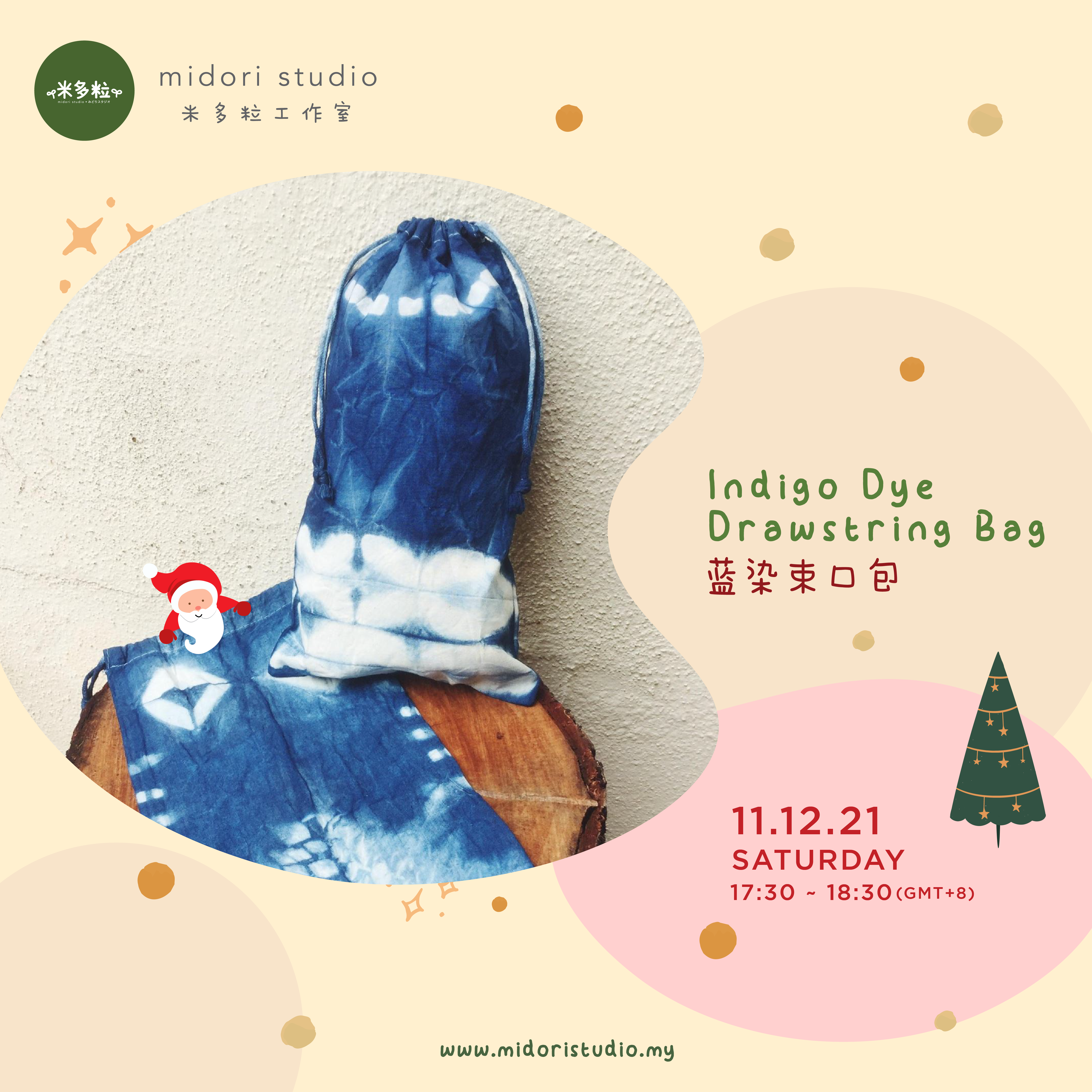 You will be learning and getting 你学习制作并带回家的:
🌟 A basic intro about Indigo dye 藍染的簡介
🌟 3 basic method of Tie-Dye 3種基礎紮染的方法
🌟 Cotton drawstring bag 棉质束口包 (20x29cm)
----
Venue 地點:
Midori Studio • みどりスタジオ (5 minutes from Desa Park City)
20A, Lorong Lang Kuning, Kepong Baru, 52100 Kuala Lumpur.
📞 012-6173911 (Mika) / 016-2603911 (Melody)
Bank in Details 汇款资料:
MIDORI STUDIO
514879100791
MAYBANK

** Note 备注 :-
The seat will only be secure if full payment have been made within 2 days after you check out. One that is absent will not get a refund unless class cancel.
匯款必須在結帳推出後的2天內完成匯款才可保留名额。无法出席者費用无法退还,除非课程取消,学费将100%退还。