這款小雛菊鉤針作品可以做貼片,也可以做成吊飾。搭配我送的小配件,還可以做成髮飾呢!
用的針法也很簡單,只需要跟著我的視頻教程,一步一步的做就可以啦~ 還有還有!凡在購買此材料包的同学, 只需要另附RM10就可以參與我們的實體鉤針體驗課哦!數量有限!趕緊下單!
This little daisy can be brooches, as a keychain, or, make use of the accessories I provided, you can even make it into a hair clip too! It's so simple that you will only need to follow my video tutorial, I will be guiding you step by step to complete it. And what's even more interesting? Peeps who had bought the this Crochet DIY Kit, you will just need to pay another RM10 for physical crocheting trial class! Limited sets available. What you are waiting for?! Grab one now!
--
The material in the kit can complete 材料包里的材料可以完成:
- 3 sets of daisy 三組雛菊
(1 white + 2 random colours;1組白色+2組隨機顏色)
Size of the finished project 成品大小:
7.5cm ( diameter 直徑 )
** Size might be different due to the strength that was applied while crocheting.
** 大小会因人而异,手劲大小将决定成品的size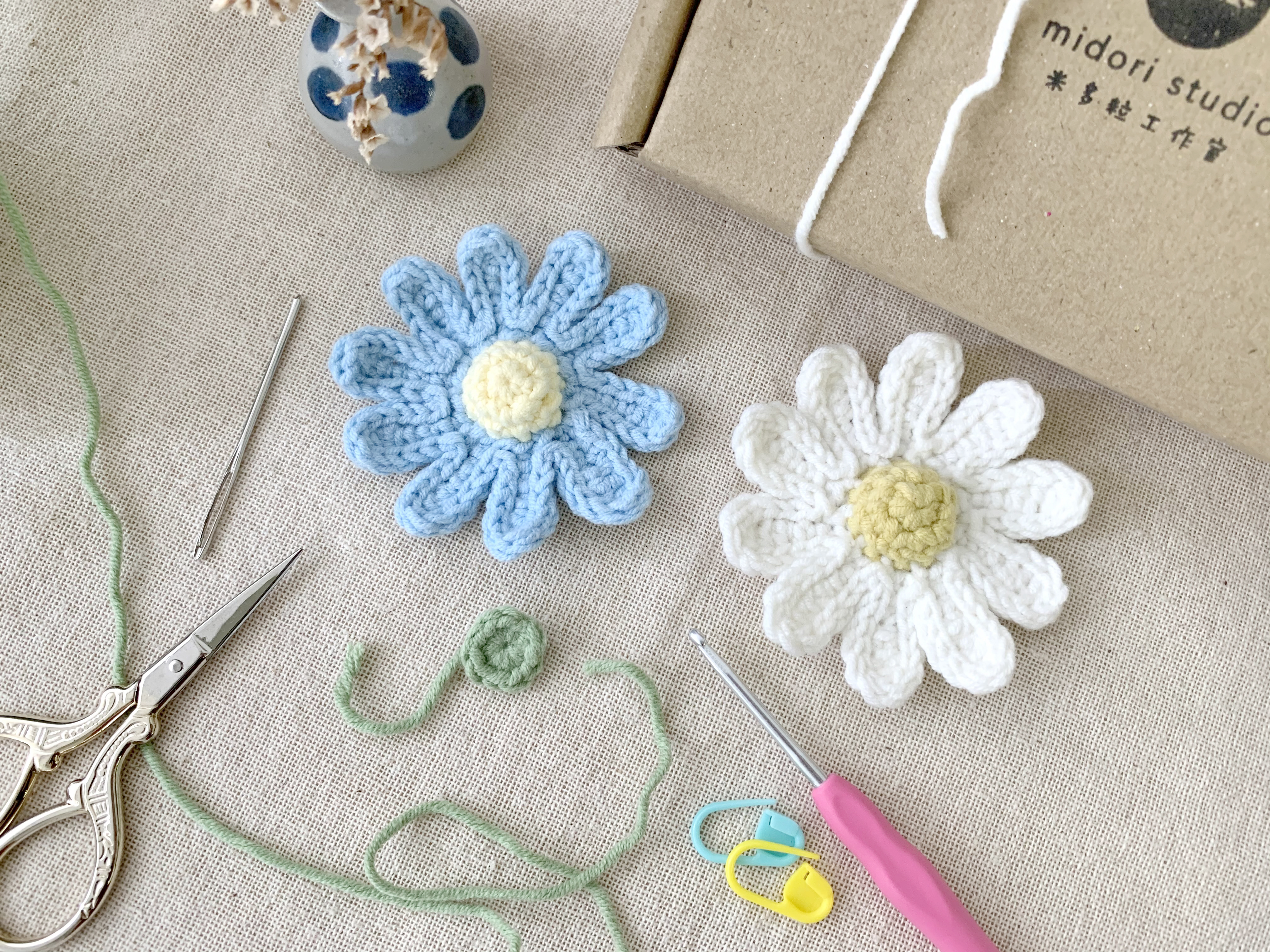 The crochet kit included 材料包包括:
✅ Tutorial videos 视频教学
✅ Crochet Pattern 图解
✅ Yarn 毛线
✅ 3.0mm Crochet Needle 3.0mm钩针 x1
✅ Needle 缝合针 x1
✅ Marking Clips 记号扣 x2
✅ Hair Clip 髮夾 x1
✅ Brooch Holder 胸章底座 x1
✅ Key Chain 鑰匙圈 x1
✅ After service 售后服务✨✨
⚠️ The kit doesn't include finished good 材料包不含成品
🔥 Early Bird Price 早鳥售价:RM78/WM西马, RM88/EM东马 🔥
(Usual Price 原售价:RM88/WM西马, RM98/EM东马)
————————Included Delivery Fee 包邮————————


The kit is limited, first come first serve.
材料包有限,first come first serve 😉
--
* Once you purchased, we will be inviting you into a Private Group in Facebook. You may share your beautiful work there or drop your questions anytime. When we sent out the parcel, we will be sending you the tutorial link too. So, enjoy making~ ;)
* 一旦您購買了這個材料包,我們將邀請您加入我們臉書的私人群組。您可在那個群組裡分享你的作品/提問。在發貨的同時,也將給您發教程視頻的連結。 祝您製作愉快!