Due to great response for the Xmas Crochet Kit Set, Yan decided to present to you the 2nd Crochet Kit by her! 🎉
This time, it's a pair of cute Amigurumi Bears! 😍 Same as the previous kit, this is suitable for any newbie too. Even if you have no any basic in crocheting, you will only need a pair of hands, with Yan's detailed explanation, you will definitely be able to complete this. 😉 The 2 dolls main body are using the same pattern, therefore you will only need to master one of it, the other 1 will be eazie-peazie for you! And, to make sure all the newbie will be able to pick up the skill easily, she put a lot effort in designing the easiest crochet pattern. All will be starting off with a "magic circle".
No worry at all when I tell you that, we have after sales service too. 😄 If any of you who had bought the kit have any questions, or you are stuck somewhere, you are always welcome to consult Yan for it.
继上一款圣诞材料包推出,由于得到的反应还不错,所以………
Yan老師决定推出第2⃣️款材料包啦!🎉
這次的是Amigurumi的小熊。超可愛的~😍 這款的材料包,依然適合初學者哦!就算你对钩针毫无基础,只要你拥有一双能动的手,加上Yan老师超级啰嗦的讲解,你一定也可以完成。😉 2个玩偶的主体都是一样的做法,只要学会了其中一款,再接着完成另外1款,绝对没有问题!而为了让初学者也可以轻松上手,老师在图解的设计上都尽量采用最基本的做法。主要都是以环形起针为主。
再来就是很关键的——— 售后服务。😄
所有购买材料包后的学员,有什么不明白的地方,或是遇到卡着的问题,都可以直接联系Yan老师哦! 放心,她绝不是售后逃的老师(我们也不会允许的)🤪
--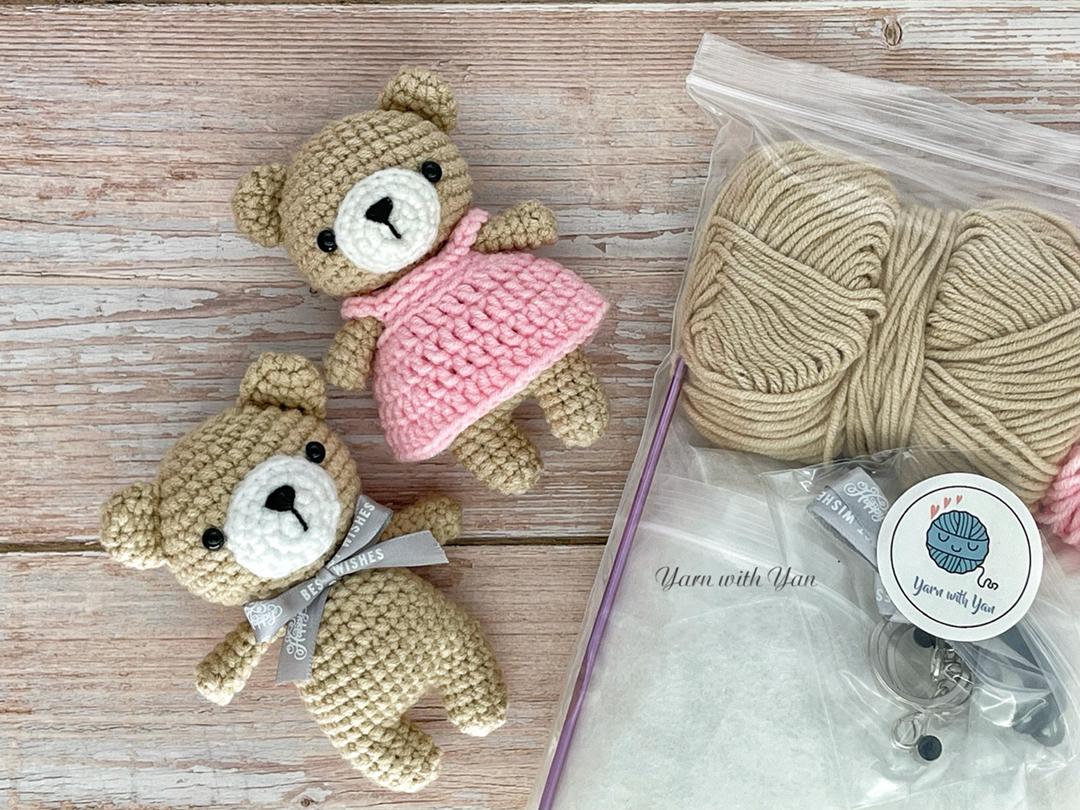 The material in the kit can complete 材料包里的材料可以完成:
- Boy bear with ribbon 系蝴蝶结男小熊 x1
- Girl bear with pink dress 穿小粉裙女小熊 x1
Size of the finished project 成品大小:
15cm ( height 高 )
** Size might be different due to the strength that was applied while crocheting.
** 大小会因人而异,手劲大小将决定成品的size

The crochet kit included 材料包包括:
✅ Tutorial videos 视频教学
✅ Crochet Pattern 图解(X,V,X V,A)
✅ Yarn 毛线
✅ Crochet Needle 钩针 x1
✅ Needle 缝合针 x1
✅ Marking Clips 记号扣 x2
✅ Key Chain 钥匙扣 x2
✅ Eyes for the dolls 玩偶眼睛 x2 pairs对
✅ Filler 填充棉
✅ After service 售后服务✨✨
⚠️ The kit doesn't include finished good 材料包不含成品
🔥 Price 售价:RM110/WM西马, RM118/EM东马
————————Included Delivery Fee 包邮————————

Peeps who had bought Crochet DIY Kit by Yarn with Yan, you may get a RM10 discount for this!
凡在之前购买过Yarn with Yan鉤針材料包的同学, 这次可享RM10的折扣哦。

The kit is limited, first come first serve.
材料包有限,first come first serve 😉
--
* Once you purchased, we will be inviting you into a Private Group in Facebook. You may share your beautiful work there or drop your questions anytime. When we sent out the parcel, we will be sending you the tutorial link too. So, enjoy making~ ;)
* 一旦您購買了這個材料包,我們將邀請您加入我們臉書的私人群組。您可在那個群組裡分享你的作品/提問。在發貨的同時,也將給您發教程視頻的連結。 祝您製作愉快!